Car services from Colorado Springs to the Denver Airport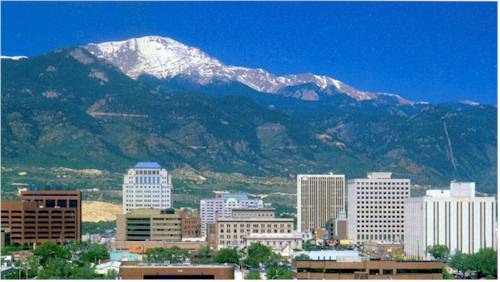 Colorado Springs is a popular destination for tourists who are looking for picturesque scenery, rock formations and landmarks like Pikes Peak, Garden of the Gods, Seven Falls and Cave of the Winds. Located at the base of the Rocky Mountains and at the foot of the one of most famous national landmarks the Pikes Peak, Colorado Springs has many trails and parks which offer a lot of open spaces for outdoor activities like hiking, biking, jogging, trekking and climbing. Other educational, cultural and historic attractions include Cheyenne Mountains Heritage Center, The ProRodeo Hall of Fame And Museum of the American Cowboy, Cheyenne Mountain Zoo, Colorado Springs Fine Arts Center, Colorado Springs Pioneers Museum and United States Air Force Academy.
Car services from Colorado Springs to the Denver Airport are provided by numerous Denver and other cities based car services which provide all means of transportation. The transportation industry has made a tremendous progress over the recent years in providing active means of transportation to thousands of tourists, residents, and other people flying in to Denver International Airport for purposes of business or pleasure. Providing them with means of transportation from Denver Airport to their respective destinations is just one aspect of car services. Other services include within city transportation, inter-city transportation and transportation from various cities to Denver airport like car services from Colorado Springs to Denver airport. Different transportation means include choices between shuttles, cabs, vans, buses and other luxury means of transportation like sedans, stretch limousines and town cars.
Denver Car Service is one of the most well-known names in the area when it comes to car services from Colorado Springs to the Denver Airport. We are a Denver based car service and have expanded the provision of our quality car services to over thirty towns and cities around Denver over the past fourteen years. Denver Luxury Car Service would provide you transportation from Denver Airport to Colorado Springs when you arrive for your vacation. We would also be your transportation for the entire vacation period at extremely reasonable rates and would take you around Colorado Springs as well as providing commute from Colorado Springs to other towns. Denver Luxury Car Service would also provide you with all types of car services from Colorado Springs to Denver airport at the end of your vacation period. With Denver shuttle we guarantee you the most luxurious traveling experience that you ever have experienced.
Denver Luxury Car Service provides you with vehicles that are equipped with state-of-the-art technologies. Our vehicles are well-maintained and kept immaculate inside and out. Our drivers and chauffeurs are trained extensively and training sessions are held from time to time to assess their performance. Our drivers and staff are extremely cooperative, and would show extreme flexibility in meeting with your transportation demands. Apart from offering excellent customer care services, Denver Luxury Car Service offers great deals and packages from time to time which you can avail to make your journey even more economical. At Denver Luxury Car Service we are all about professionalism, reliability and excellence.